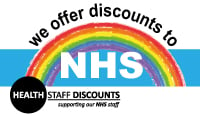 We are proud to work in partnership with Health Staff Discounts offering an EXTRA 7% OFF on all of our product ranges including Cheap TVs, Cheap Smartphones, Cheap Laptops, Cheap Tablets, Cheap Smart Watches, Cheap Appliances, Cheap Gadgets and even Cheap Children's Toys! We are the #1 online department store at that sells Big Brands at Cheap Prices.
We stock models from all of the leading household brands too, including Cheap Samsung TVs, Cheap Samsung Smartphones, Cheap Samsung Appliances, Cheap Samsung Laptops, Cheap Samsung Tablets, Cheap Samsung Soundbars, Cheap Panasonic TVs, Cheap LG TVs, Cheap Sony TVs, Cheap Toshiba TVs, Cheap Hisense TVs, Cheap Sharp TVs, Cheap Luxor TVs. Our range of UHD TVs and HD TVs includes the latest, cutting-edge technologies, including Smart TVs, OLED TVs, QLED TVs, LED TVs, 4K TVs & 8K TVs so that you can keep up-to-date with all the latest TV technologies, like surround sound, true-to-life picture quality, 4K QLED, 8K QLED, 4K Projectors, Smart HD and Smart HD, without spending a fortune.

Thank you for everything you have done and continue to do offering invaluable support and care to those who need it most. Thank you for visiting The Outlet Store and happy shopping!